One tree costs 1.5€
#PUTDOWNROOTS
We need You, climate ambassador; your input is crucial. Did you know that to compensate for your yearly footprint, you'd need to plant 20 trees? We will do it for you!
Details
optional; by entering a phone number, you consent to receive text messages
optional; to display on the website
We'll send a certificate to your email address, which you can forward along or print.
optional; to be included on your certificate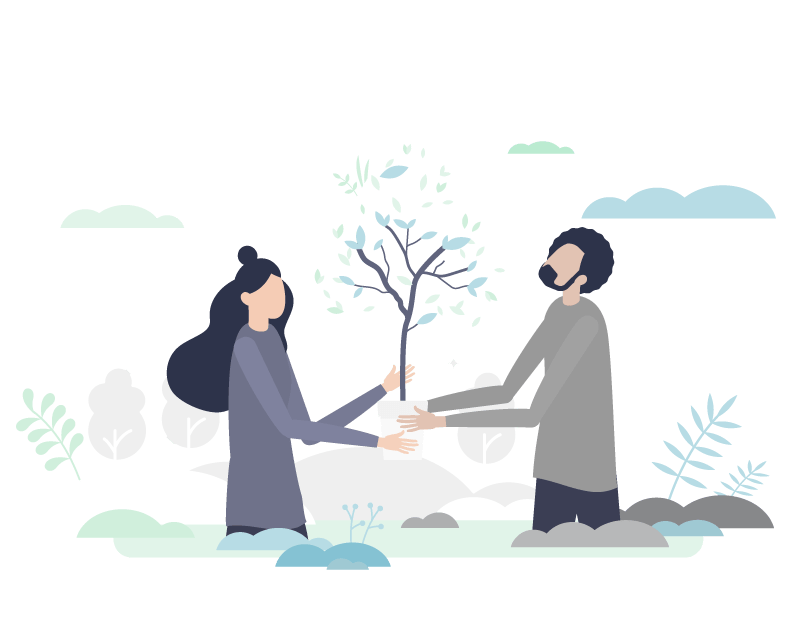 Would you like information about the tree planting day?
Three steps to climate friendliness
We are an Estonian cleantechstart-up Makeitneutral and we make sure that every company and individual had a chance to give their best to consume a carbon-neutral and climate-positive service.
We don't sense the world as shown in news and documentaries. We live in a paradise, by all means, we just don't know how to cherish it. Climate changes and the rise of sea levels with the floods that have come from it seem abstract and insubstantial. It seems as if it doesn't affect us today.
We're all used to consuming but it can't go on forever. We have been fallen behind in changing our habits and now is our last chance to do so. The extinction of various species has been growing exponentially since the 1950s. In 2020, 15 species were declared extinct, in 2021 31 species (source) In the last decade, more than 160 species have been declared extinct. Today, everybody can see the climate changes – hurricanes, droughts, floods, snowfalls even in Egypt, where even rain is not very common.
The footprint of ourselves, average Europeans, is 29kg of CO2, meaning 10.5 tons of carbon dioxide a year.
A green change in a company takes time, which unfortunately is often limited. Even our own experience showed that it's not as easy at all as we thought at first. But we won't give up; we believe that everything is possible!
We see and hear the true desire of companies to change and act more responsibly and sustainably. The wish to change is there and Makeitneutral comes to the rescue with tools that help to analyze, reduce, and compensate. Out automatic solutions won't take a lot of time and are easy to use.